CSP-4414XW-5G 4GE+2.4G&5G WIFI+CATV+2USB DUAL BRAND XPON ONU
CSP-4414XW-5G model ONU is a user terminal device independently developed by CATVSCOPE in line with such industrial background.The
device has built-in two-layer switching function and three-layer routing function. With compact structure and small appearance, it
is a kind of FTTH optical network unit with high performance and low power consumption, which is very suitable for the application
requirements of various data services in FTTH networking scenarios of various operators.CSP-4414XW-5G is an XPON product that can
be adapted to EPON and GPON networks without replacing equipment and firmware.
Hardware Specifications

Size(L*W*H)

205mm (L) *140mm (W) *30mm (H)

Optical signal access

1*GPON/EPON

User interface

4GE+2VOIP+2.4G/5.8G WLAN+1USB+CATV

Indicator light

POWER、PON、LOS、LAN1、LAN2、LAN3、LAN4、TEL1、TEL2、USB、2.4G、5G、WPS、CATV

Button

Power switch Button, Reset Button, WLAN Button, WPS Button

Weight

300g

Power adapter input

100V~240V AC,50Hz~60Hz

PowerSupply requirement

12V DC,1.5A

Power consumption

<10w

Working temperature

-10°C ~ +45°C

Environment humidity

5% ~ 95% (Non-condensing)

PON Interface

Module type

SC/APC

Working wavelength

PON:up 1310nm,down 1490nm ;CATV:1550nm

TX Optical power value

0.5~4dBm

RX Optical power value

-27dBm

Transmission distance

0~20km

Transmission rate

GPON:Up 1.244Gbps;down 2.488Gbps
EPON:Up 1.244Gbps;down 1.244Gbps

Ethernet interface

Interface type

4* RJ45

Interface parameters

4*10/100/1000Mbps auto adaptive Ethernet interfaces

Wireless

Working mode

IEEE 802.11 b/g/n/AC

Antenna pattern

External 2*2T2R External antenna

Antenna gain

5dBi

Wireless bandwidth

Support 20MHz/40MHz/80MHz

Interface rate

2.4G WLAN:Maximum rate 300Mbps
5.8G WLAN:Maximum rate 866Mbps

SSID

Up to 4 SSID broadcasts are supported

POTS interface

Interface type

2* RJ11

Voice agreement

SIP

Codecs

G.711/G.723/G.726/G.729

Integrated circuit protocol

Gr-909 protocol is applicable

CATV Interface

Optical receiving wavelength

1550±10nm

Optical reflection loss

≥45dBm

RF, WDM, optical power

+2~-15dBm

RF frequency range

47~1000MHz, RF output impedance: 75Ω

RF output level

78dBuV

AGC range

0~-12dBm

MER

≥32dB@-15dBm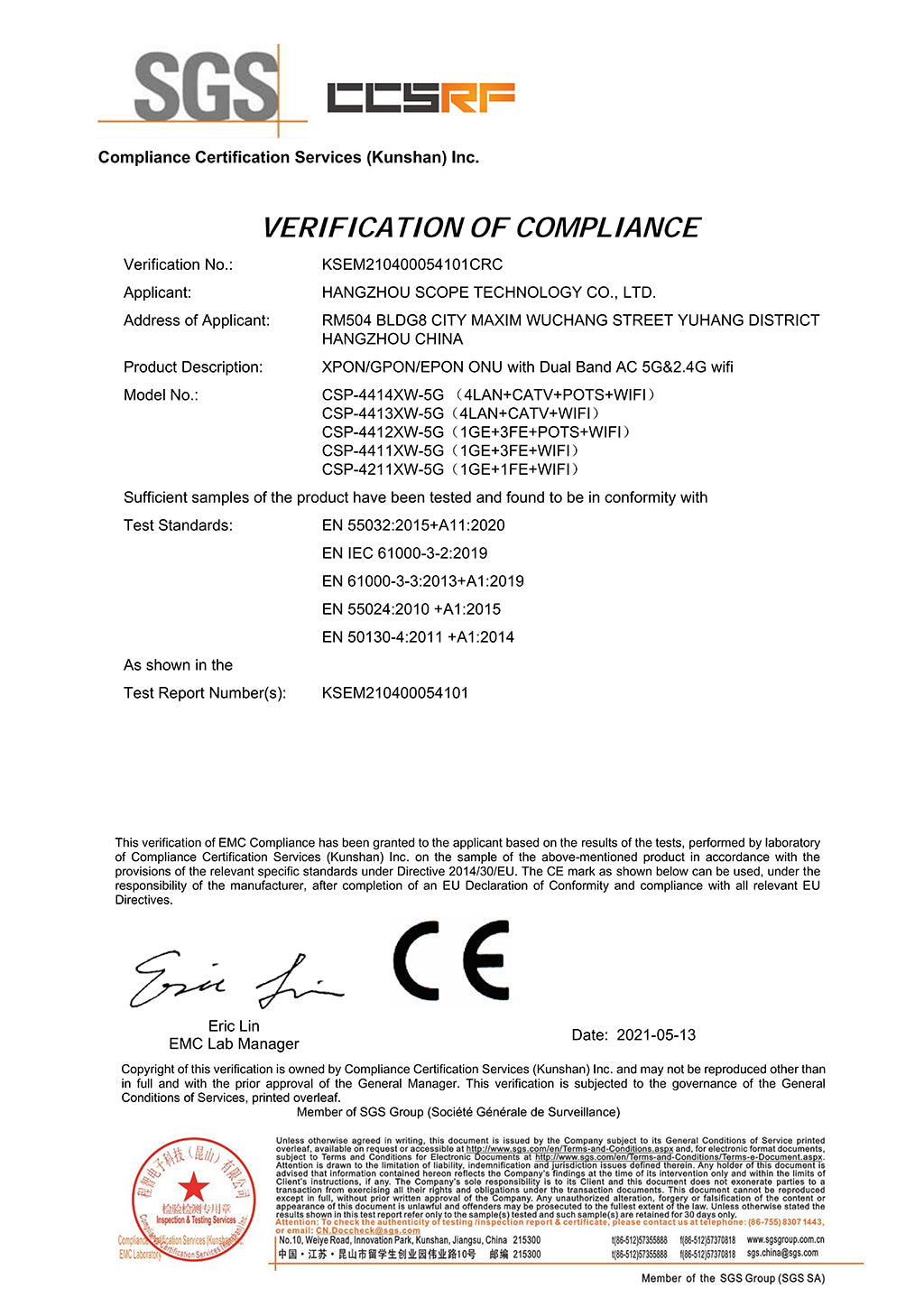 RETURNS POLICY
1.Before shipping, you can cancel any order, and we will return the payment.
2. If you find that the packaging is damaged when you receive the goods, please contact us immediately and take a photo for your certificate.
3. If you have any quality problems within 15 days after you confirm receipt of the goods, you can contact us online. After confirming the photos or videos, we will negotiate with you and choose to return the goods or give an equivalent gift card. (Note: The packaging of the product must be complete and undamaged, otherwise we can only give the corresponding gift card at a discount.
4. After you use our products for 15 days, if any quality problems occur during the product warranty period, after confirmation by our technical team, we will Refund or Exchange for you free of charge, or give you a corresponding gift card.
5. After the product has a quality problem after the warranty period, we still provide technical support, but the cost of repair or replacement needs to be paid by the buyer.
SHIPPING
We promise to ship within 48 hours after placing an order and payment on the platform, if you choose standard shipping, it will be delivered within 5-15 days. If you choose Expedited, it will be delivered within 3-10 days. If the weight of the goods exceeds 21kg, You can use Free heavy goods shipping, by DHL, Fedex or UPS .Order more than $69, Stanadrd Shipping is free. If you have any requirements on which express to use, you can directly consult online on the website.
Warranty policy:
1. Electronic products enjoy 1 year warranty from the date of purchase and receipt. Non-electronic products enjoy a 3-year warranty from the date of purchase and receipt
2. Repair or replace the equipment according to the specific failure situation. After our engineer confirms the product problem, the corresponding parts will be sent for replacement. If it is confirmed that it cannot be repaired at the buyer, it is supported to return to the factory for repair or replace the corresponding gift card.
3. All replaced parts, accessories or equipment are brand new.
4. Replaced parts and accessories enjoy the remaining time of the original one-year warranty period or the 90-day warranty period from the date of repair or replacement, whichever is longer.