CSP-3302S handle OTDR of MINI ECONOMY
CSP-3302S handle OTDR of MINI ECONOMY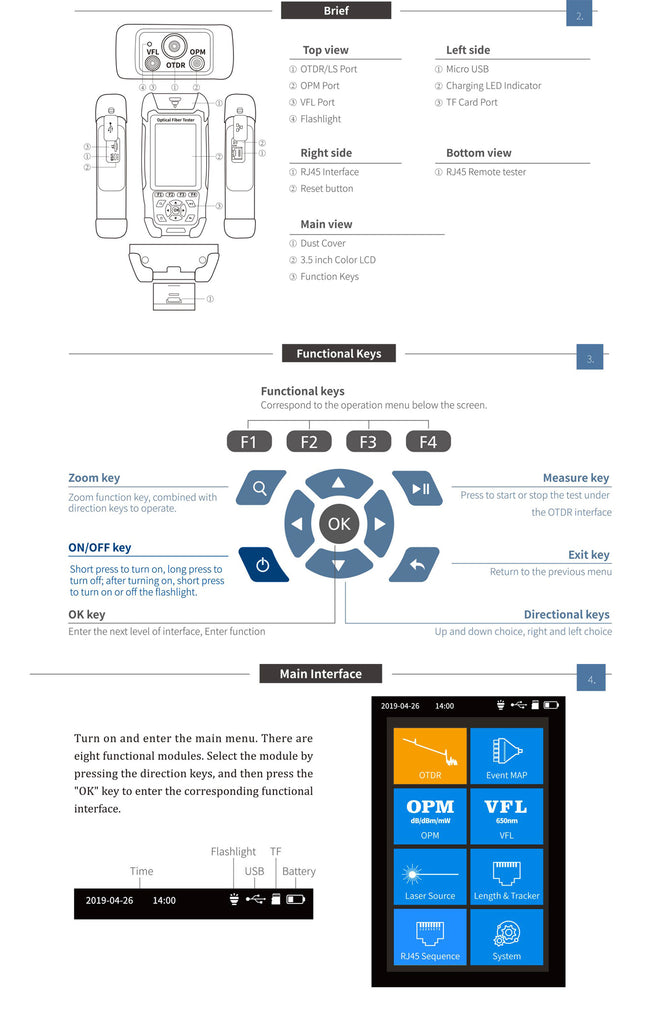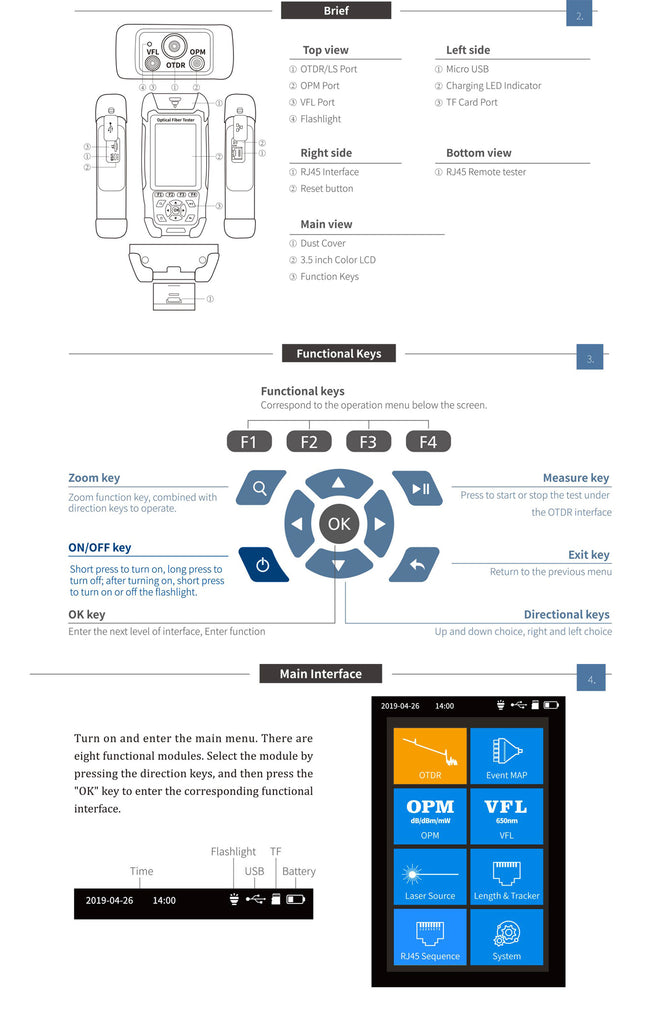 * Novel and beautiful appearance and structure design;
* Special protection design of shell, durable and able to work under bad environment;
* Simplest operating interface, shortcut key operation, easy to use;
* Dual operation of touch screen and keys;
* Short event blind zone, test 5 m fiber jumper easily; Have a multiple kinds of test modes such as automatic test, manual test and blind zone test, etc..
* Light detection and alarm are provided in the line, to avoid signal light from damage the instrument in the tested optical
fiber;
* Built-in high-power visual red light fault positioning function;
* The USB interface functions can quickly realize the file transfer and report form preparation;
* The universal light output connector is easy to replace, which is able to realize e a variety of interface tests;
* Smart battery electric quantity indication and low –voltage alarm function;
* 10-hour long time of duration, particularly suitable for the field construction application for a long time;
* The multi-wavelength and dynamic range selection can satisfy customer's high higher cost performance demands to the greatest extent;
* The highly intelligent analysis software can accurately identify the fault splices, connectors and even macro-bending;
* Language: multiple choices of languages, such as Chinese, English, etc, which can be customized according to customer's requirements.
Model

CSP-3302SA

CSP-3302SB

Type of optical fiber

Single –mode

Center wavelength

1310nm/1550nm (±20nm)

Maximum dynamic range (dB)

36/35

30/28

Event blind zone

1.5m

Attenuation blind zone

10m

Display type

3.5inch, color LCD, touch screen operation

Optical interface

FC/UPC (Interchangeable SC, ST)

Test range

500m,1km,2km,4km,8km,16km,32km,64km,128km

Pulse width

10,30,50,100,275,500,1000,5000,10000ns

Range accuracy

± (1m + sampling interval +0.005% × distance)

Attenuation measurement

±0.05 dB/dB

Reflection measurement

±4dB

Data storage

≥ 1000 test curves

Communication interface

USB

Power supply mode

AC / DC adapter: AC: 100V ~ 240V (1.5A), 50/60Hz
DC: 18V to 20V (2A)
Internal lithium-ion battery pack: 7.4V, 4400mAh

Battery operation time

≥ 10hours

Operating temperature

-5℃ ~ 50℃

Storage temperature

-20℃ ~ 70℃

Relative humidity

0 ~ 95%, no condensation

Weight

1.8kg

Volume

32*20*21cm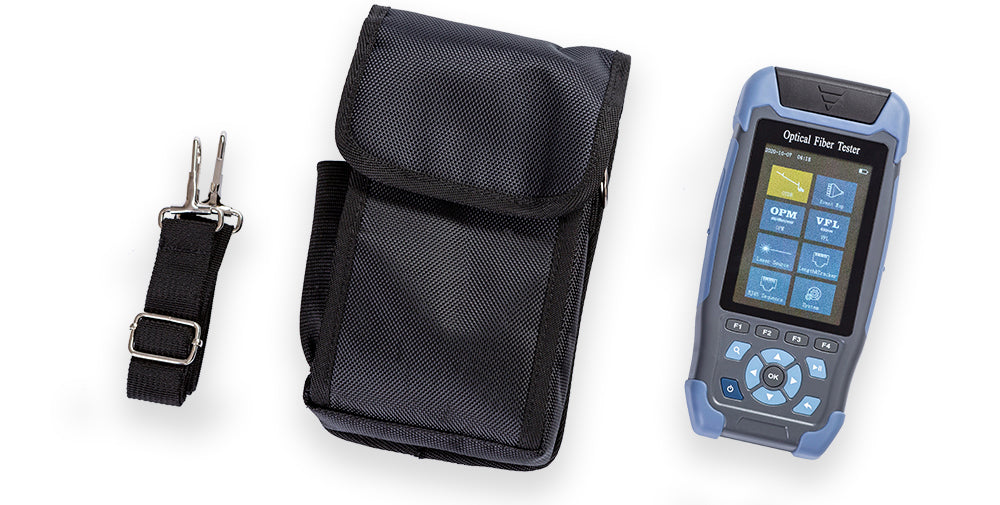 RETURNS POLICY
1.Before shipping, you can cancel any order, and we will return the payment.
2. If you find that the packaging is damaged when you receive the goods, please contact us immediately and take a photo for your certificate.
3. If you have any quality problems within 15 days after you confirm receipt of the goods, you can contact us online. After confirming the photos or videos, we will negotiate with you and choose to return the goods or give an equivalent gift card. (Note: The packaging of the product must be complete and undamaged, otherwise we can only give the corresponding gift card at a discount.
4. After you use our products for 15 days, if any quality problems occur during the product warranty period, after confirmation by our technical team, we will Refund or Exchange for you free of charge, or give you a corresponding gift card.
5. After the product has a quality problem after the warranty period, we still provide technical support, but the cost of repair or replacement needs to be paid by the buyer.
SHIPPING
We promise to ship within 48 hours after placing an order and payment on the platform, if you choose standard shipping, it will be delivered within 5-15 days. If you choose Expedited, it will be delivered within 3-10 days. If the weight of the goods exceeds 21kg, You can use Free heavy goods shipping, by DHL, Fedex or UPS .Order more than $69, Stanadrd Shipping is free. If you have any requirements on which express to use, you can directly consult online on the website.
Warranty policy:
1. Electronic products enjoy 1 year warranty from the date of purchase and receipt. Non-electronic products enjoy a 3-year warranty from the date of purchase and receipt
2. Repair or replace the equipment according to the specific failure situation. After our engineer confirms the product problem, the corresponding parts will be sent for replacement. If it is confirmed that it cannot be repaired at the buyer, it is supported to return to the factory for repair or replace the corresponding gift card.
3. All replaced parts, accessories or equipment are brand new.
4. Replaced parts and accessories enjoy the remaining time of the original one-year warranty period or the 90-day warranty period from the date of repair or replacement, whichever is longer.